Organisation
HyCentA, Hydrogen Research Centre Austria, founded in 2005, is an independent research centre in Graz, Austria, based at the Graz University of Technology. We are an interdisciplinary dedicated team with more than 80 employees. HyCentA Research GmbH is the only extra-university research institution in Austria exclusively dedicated to research and development on green hydrogen technologies. We conduct joint projects with leading companies and scientific partners on the production, distribution, storage and application of renewable hydrogen - and thus cover the entire value chain with our unique know-how. HyCentA's shareholders are the Graz University of Technology (50 percent shareholding), the Research Association for Combustion Engines and Thermodynamics, Magna and OMV. At the beginning of 2023, HyCentA was promoted from a COMET project to a COMET centre in the COMET funding programme of the FFG. The COMET competence centres are financed by the federal government - specifically by the Ministry of Climate Protection (BMK) and the Ministry of Economic Affairs (BMAW) - and the federal states of Styria, Upper Austria, Tyrol and Vienna. The Austrian 39 Research Promotion Agency (FFG) has been responsible for professional programme management for more than 20 years.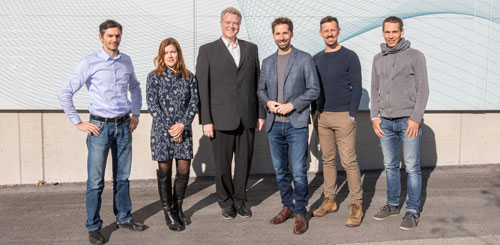 CEO
Deputy Managing Directors
Prokuristen
Research Director
Hydrogen Test Center
The Hydrogen Test Center has the necessary technical facilities, test benches and laboratories to enable realistic research, development and testing of H, technologies for all departments of the HyCentA.